Testimonials about Happiness 101
Happiness 101
Saturdays, 12pm to 2pm    Dates to be determined


Happiness 101 is an uplifting class where you will learn HOW to be happy, meet like-minded people and learn to break unhappy habits. Most people believe the myths of Happiness and therefore spend a great deal of energy chasing it, only to end up disappointed. Scientific research has now revealed the things that actually bring us Happiness. Even better: you can start being Happier NOW. Topics covered:
*The Myths of Happiness
*The Happiness Setpoint
*Why You Are Not Happy
*What Happiness Is (and is not)
*How and Why You Sabotage Your Happiness
*Thinking Errors
*Happiness Habits
*The Paradox of Choice
*The Hows of Happiness
*Also: how exercise, sleep, social connection, money, beauty, the self-help movement, fame, the brain, American culture, religion, marriage, anti-depressants, anxiety, smiling and meditation relate to Happiness
Happiness 101 was offered elsewhere at a cost of $115. You have the opportunity to take the class at no charge. However, there is a $60 deposit required. You will get your deposit back when you have attended at least six of the eight classes. Until your deposit is received, you are not officially enrolled in the class.
Click here to view testimonials
What to Expect Your level of happiness (and depression) will be tested both at the beginning and end of the class. You will track your level of positivity weekly. You will discover your signature strengths and the optimal happiness habits through diagnostic instruments. Happiness 101 is a eight week long class. Between classes you will be expected to do exercises, view videos and read. Yes, there is a text – The How of Happiness by Sonja Lyubomirsky. You may buy the book yourself, or as a student, you may purchase it from our sponsor Genesis Books for a 10% discount. Click here to learn how to apply to be one of the lucky students in the next semester of Happiness 101.
Back to Top
Happiness 101: Apply
There are a limited number of seats available To apply for one of those slots, E-mail me the following information:
*Your name
*Your phone number
*Why you would like to take the class
*Days and times you are available to take the class.
*Which semester you hope to attend
*Extenuating circumstances – Feel free to tell me any additional information that you think might be relevant, such as: physical impairments, time restrictions, transportation issues, etc.
*Anything else you would like to tell me – for instance: why you would like to take the class.
Note: The more you write, the more we know you're interested.
Note Part II: What you write will be read by the Teacher's Assistant(s)
Apply now by E-mailing me me at frank@saltlakementalhealth.com
Lecture at the Leonardo
Thursday, December 11
7-8:30pm
The December theme at The Leonardo is: Happiness and Health and I have been invited to speak! The Leonardo is that gorgeous museum hosting the Body World exhibit. The topic is the Secret to Longevity. I'll be discussing how Happiness effects the body and how the body effects Happiness.  The good news is that this lecture is free to the public.  The bad news is that space is limited.  So go to this page now and reserve your seat today!
Happiness Social
2nd Saturday of each month from 10am to noon, Kafeneio Coffeehouse (258 West 3300 South)
May 9th, June 13th, July 11th, August 8th, September 12th, October 10th, November 14th, 2015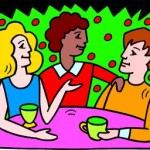 Social support is a huge piece of the puzzle of Happiness.  The Happiness Social brings together people interested in two things: feeling Happier and making new friends.  Each Happiness Social is a completely different experience – you never know exactly what you're going to get.  What you CAN count on is a warm, caring and friendly environment where new people are quickly put onto same level playing field as frequent flyers.  Special emphasis is placed on helping everyone feel comfortable. People frequently marvel at how they walk in strangers and walk out feeling like family.
Here are a few comments from the most recently Happiness Social:
"Had a great evening! Felt like there was a connection with everyone at the group! Great ideas to think about and apply in my personal life."
"I always enjoy the meetups here. They are well organized and impart a lot of good information, besides being fun."
"Great people. It is nice getting to know everyone. Frank always keeps it lively."
"It was a lot of fun…. Got to know some new friends as well."
Kafeneio Coffeehouse provides lots of space, a friendly staff, great food along with hot and cold drinks (ask about our very own delicious and nutritious drink: The Happiness Boost.
Kafeneio Coffeehouse., is located at 258 West 3300 South, Salt Lake City. . Click here for directions.

Testimonials from Happiness 101
"I was completely hopeless and wanted to die. I had tried to lose weight for 3 years and could not. I lost most friendships, faith, joy. Now I am happy much more than sad or depressed, feel grateful for so many things in my life and that a lot of other people have more problems than I do. I do not have anxiety any more. I sleep better. I have more energy and have lost 16 lbs. I smile more, I have made friendships, look for happiness every day online, in books, in other people. I am not afraid to share with people. I am more mindful of the moment, mindful of breathing and being still to let positive thoughts in my mind and I have fewer negative thoughts. I am appreciating and loving myself more. I have learned to set goals and not be afraid to share and have hope for a better life and a better future." "This class has helped me to be significantly more positive. When I started, I was extremely depressed and now I feel much better. I still have times I'm down but but feel better equipped to rebound and see the positive. I can see how the class made me an active participant in my own happiness." Back to Top "Happiness 101 helped set me in motion on a personal journey to change my life. My perspectives are changing from "the cup is half empty" to the "cup is half full" and I am implementing the strategies I've learned in class. Even from Day One, the 5 positives journal ("home opportunity") was assigned/suggested so that there was ACTION from the get-go to help me overcome the inertia of years of negativity. Happiness 101 has empowered me to shape my destiny. Frank is knowledgeable, inspiring, motivating and lots of fun." "This has changed my life. I am more positive doing twice the work I was doing more effectively. I'm a better mom. My daughter is happier. I choose to be happy every day. I have told many people about the home opportunities and that has affected them for the positive. I got a raise because I felt like I deserved one and had the confidence to ask for one. I see more beauty in life. I hear the birds. I see and enjoy the sunsets more. I talk to my friends more. I don't take on others negative energy. I sing more. I definitely smile more." Back to Top "I am really a happy person and I was losing my best attribute. Happiness 101 showed me how to never let my happiness go away. Just battle the bad things with a positive attitude. Smile and make people around you smile too!" "I know my journey has just begun and that is the best part! Frank is an example of taking life to the next level, so there is no excuse for me not to try and succeed as well since he has shared his "happiness secrets". "Frank Clayton is an exceptionally good instructor. Never boring, has anecdotes ready for almost any situation. He is extremely knowledgeable about this subject and can entertain as well as he educates. Grade = 4.0″ "Frank is the best!! Very knowledgeable about the science and dynamics of Happiness. He is a treasure chest full of booty (knowledge). I am glad he is here in Salt Lake City."
Students: "Things I learned…"
"I can make a choice to be happy. My thoughts, beliefs and behaviors are in my control. Using the tools from class I can apply specific strategies that will help me be happier, more forgiving, grateful, hopeful, etc. – generally positive." "The class was a "First Step" for me. It really opened my mind to ideas that I would never have thought of." "When I'm happier, I affect everyone around me and they become happier." "Your perception must be changed so you can begin seeing the good in your life, not just the crap." "That things are never as bad as I create them to be! I have choices of how I live and change my life. How truly blessed I am." "You are the only person that can make the decision to be happy." "Generating my own happiness. How to care for myself. Be more mindful. Valuing myself and others." "Happiness is a choice. There are many ways to help improve your level of happiness and they really don't take much effort."
Sponsors
We at Happiness Central would like to extend our most sincere thanks to our sponsors, Genesis Books, Ace Test Prep and Kafeneio Coffeehouse.
Genesis Booksis right next door to Happiness HQ, so it seemed like a natural team-up. Mary Ellen was delighted to be a sponsor to Happiness 101, giving students 10% off all books. She also got a list of books that I recommend so they can be readily available to students during the class. Genesis Books is a great supporter of our 12-step community and have been in Salt Lake forever. Usually when a client is asking for directions, I reference Genesis Books because everyone knows them. Please thank them for their support by stopping in or call them at 801-268-1919. Location: 248 East 3900 South, Salt Lake City.
Kafeneio Coffeehouse is home to the monthly Happiness Socials. Social Support is a very important part of the Happiness formula and Kafeneio Coffeehouse is giving us a chance to get together there. They gave great coffee with a Greek twist. Yes! They do have tasty Greek pastries too. In fact, if you click here, you can get a free pastry with the purchase of a beverage. Location: 258 West 3300 South, Salt Lake City. Phone: 801-485-1282 Website: www.kafeneiocoffee.yolasite.com